Using FTP (Box)
The following is a summary of the steps to establish a secure connection to Pitt Box using an FTP client.
These instructions use FileZilla software as an example. All FTP clients will use the same server and port configurations.
Step One – Set up an External Box Password for Your Pitt Box Account
Single Sign On (SSO) using Pitt Passport is not supported, so you will not be able to log in to the FTP client with Active Directory or LDAP credentials.
Before using FTP with Box, you need to set up an external Box password for your Pitt Box Account. Take the following steps:
Log in to My Pitt > Box.
Click your initials in the top right corner, then choose Account Settings.
On the Account tab, scroll down to the 'Authentication' section. Click Change Password.
Type the new password twice, then click Save.
Step Two – Download An FTP Client
Any FTP client can connect to Box's FTP server. The Box Team suggests using the FileZilla client.
Note: There is no need to try to use the Pitt Box App link (via My Pitt > Box > Your Name in the top right > Apps) to download 'Box FTP Server' because it says "Install the FTP client of your choice."
Step Three – Configure Your FTP Client to Use Box
To establish a secure connection to Box with your FTP client use the following settings:
File protocol: FTP
Host name: ftp.box.com
Encryption: TLS/SSL implicit encryption
Port number: Port 990 is for secure SSL connection.
User name: Your University of Pittsburgh Computing Account Username
Password: the External Password that you created via Box to use with your FTP client.
Here is what the FileZilla Quickconnect screen looks like:


Note: You can make a one-time connection to FileZilla.
Here is what the FileZilla screen with Saved Connection screen looks like: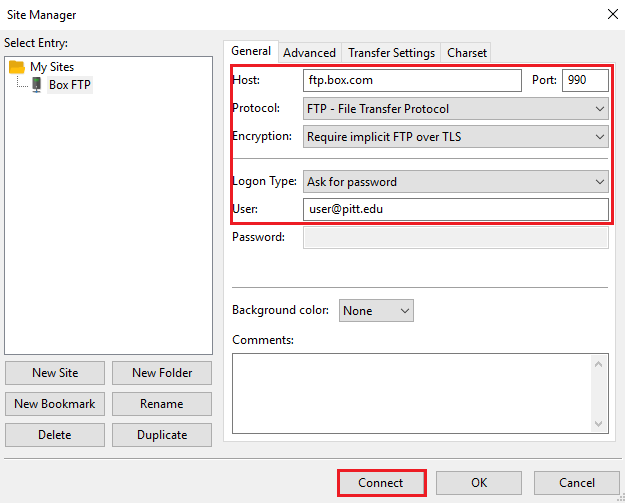 Note: Most settings are saved. You will have to provide your password before you can connect
Recommendations & Tips
FTP is a great option if you need to do a one-time migration of data into Box.
Box does not recommend using FTP as a two-way sync mechanism. You should use the Box Sync feature to sync files. Use the following method.
Box recommends that no more than 150,000 files or 250GB of total data should be included in each FTP batch.
Based on CSSD Customer and Application Support experience, sending smaller batches of files (approximately 50 GB) overnight provides an effective way for file transfers to be completed.